Now that I live in Colorado Springs, I'm so excited to grow this arm of my business even more and cannot wait to meet so many small biz owners in the area like Caitlin with Ember & Co!
Check out my Personal Brand page dedicated to this type of session if you think it might be something you're interested in.
If you're looking for a graphic + web designer – Caitlin is your girl! In fact, she's the one I trusted to do a website audit for me when I overhauled mine last Fall, create my stunning email signature, and do a mini re-brand for me this year (more to come on that soon)!
Caitlin was kind enough to share her experience with this type of photo session and how they've helped her grow her business by staying on-brand, connecting on a more personal level with her potential clients, and standing out from the competition with fresh, modern imagery time and time again. You'll find her answers below!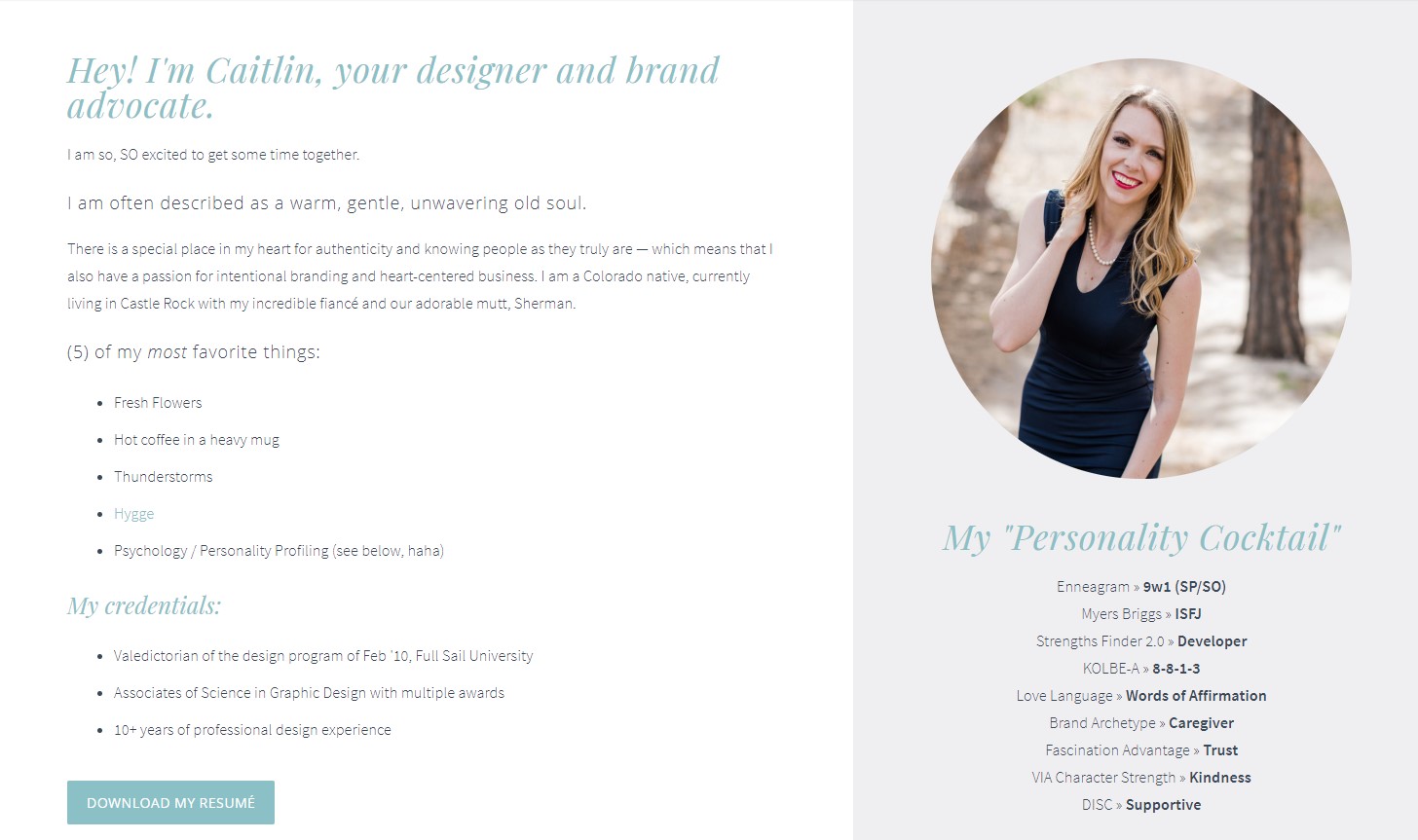 1) What makes a personal brand photo session unique?
A personal brand photo session is solely focused on you — what you love, how you carry yourself, who you want to be in the world. It's much more personalized. It's more than a head shot; it's an opportunity to get really intentional about how you desire to show up in the world. Especially now that so much of our professional lives are conducted online, it's one of your biggest opportunities to craft how someone perceives you before they've even met you. A photo is worth a thousand words, and this is no exception. I constantly get feedback from my clients that the warmth, creativity, and poise shown in my photos is what ultimately pulled them in and warmed them up to how it might feel to work with me.
2) How have Personal Brand photo sessions impacted your business?
I find that having professional brand photos peppered throughout my marketing materials and online presence adds credibility/professionalism, warms prospective clients up (they can put a name with a face right away), and infuses more of my personality into my brand. It's also a beautiful way to tie together your marketing. You can strategically choose colors, environments, clothes, and postures that align with your brand and how you want to be perceived. I am really big on authenticity and warmth, so I leverage my brand photos to showcase that. I chose environments that are true to me and how I like to work, I wear clothes that make me happy, I smile the way I would if I was at coffee with a close friend. My photos are very aligned with how I like to show up, and as a result, they naturally attract clients who like to work that way, too.
3) How have the images helped you share your story with your followers and attract new business?
As mentioned, I'm really big on authenticity in my business — I like to call it "Magnetic Sincerity." When you're true to who you are you can show up in life and business as your FULL self, and you will naturally draw people to you who share the same values. When this happens, you work feels more effortless and the client experience resonates on a deeper level with your clients. You're not just a professional who can get the job done; you "get" them — you make them feel right at home. Having professional brand photos that are strategically aligned with my brand mission helps me to tell this story and encourage my clients on their journey, even when I'm not in the room. Since making this shift in my business, my clients have gotten more and more dreamy. I get excited to work with them and they can relax into the process, knowing that they've found someone who understands how they want to show up in the world.
4) Describe your experience working with Kira Whitney Photography for Personal Brand photos
Where to start?! Kira is a dream to work with. Personal brand photos can feel scary and vulnerable at times. It's just YOU, putting yourself out there for the world to see/experience. For an introvert like me, that can feel overwhelming! Kira is incredibly warm, approachable, and down-to-earth throughout the entire experience. She helps you to feel at ease and is a wonderful confidence-booster during the session. I'm one of those "I don't know what to do with my hands?!" types, and Kira did a beautiful job leading me through different poses and ideas. I love working with Kira because I know I can trust her expertise and her attention to detail. At the last two sessions she made sure to get photos I hadn't even thought of — shots of the books on my bookshelf, my favorite coffee mug, etc — and those photos have worked SO wonderfully on my website and social media.
They tell my story and personalize my online presence — and also give me prompt ideas for my content (for instance, sharing WHY that's my favorite mug, or what I learned from one of the books on my bookshelf). In short, I always end up with an incredible and varied collection of branded photos (from headshots to close-ups to candids to detail shots) that serves me for years to come and feels incredibly authentic and true to me.
5) Do you feel like the content you received from the session was as valuable as what you paid for it?
Uhm…YES. Without a doubt. I'm always blown away by the number of photos in the collection, the variety, and the attention to detail. Because of the variety of image styles/content, I'm able to use them extensively throughout my branding and online presence without it looking repetitive or tired. I love that the photos tie together my website and social media feed in such a personalized way. As a designer, I can always tell when someone's website/feed is full of generic stock photos and it feels so good to know that the photos I use were styled with intention to reflect my brand in a unique and authentic way.
6) Are there any tips you would provide to someone interested in a Personal Brand session?
Do it! Not only will it position you as a professional with serious credibility; it'll help you to FEEL like one, too. It's so exciting (and affirming) to get the photos back and see yourself showcased in such a beautiful — and sincere — light. Before your photo session, put some thought into what makes you YOU. Choose a color that really represents you well and pepper it into your photo session (one of your shirts, a notebook, a pen, the side of a building, etc). Find a print of a saying that really resonates with you and find a way to include it in a few photos. Ask permission to get a few shots at your favorite coffee shop. Choose a super professional outfit, and one that's more casual. Focus on getting a variety, but be true to who you really are. Doing it this way gives the viewer a beautifully multi-faceted picture of who you are, and will also give you lots of awesome photos to choose from depending on the desired application (i.e., a resume versus a blog interview).
7) Any additional reasons why someone should do a Personal Brand photo session?
Because it's fun 🙂 Maybe a little awkward/intimidating at first, but it's SO empowering/encouraging to get the finished photos back. As an Enneagram 9, I often find myself doubting/downplaying my story. Do I really matter? Does my presence matter? I love that my brand photos showcase me in my best light and remind me of how I want to show up in the world — it's an encouragement to me to keep pushing to be my best self!