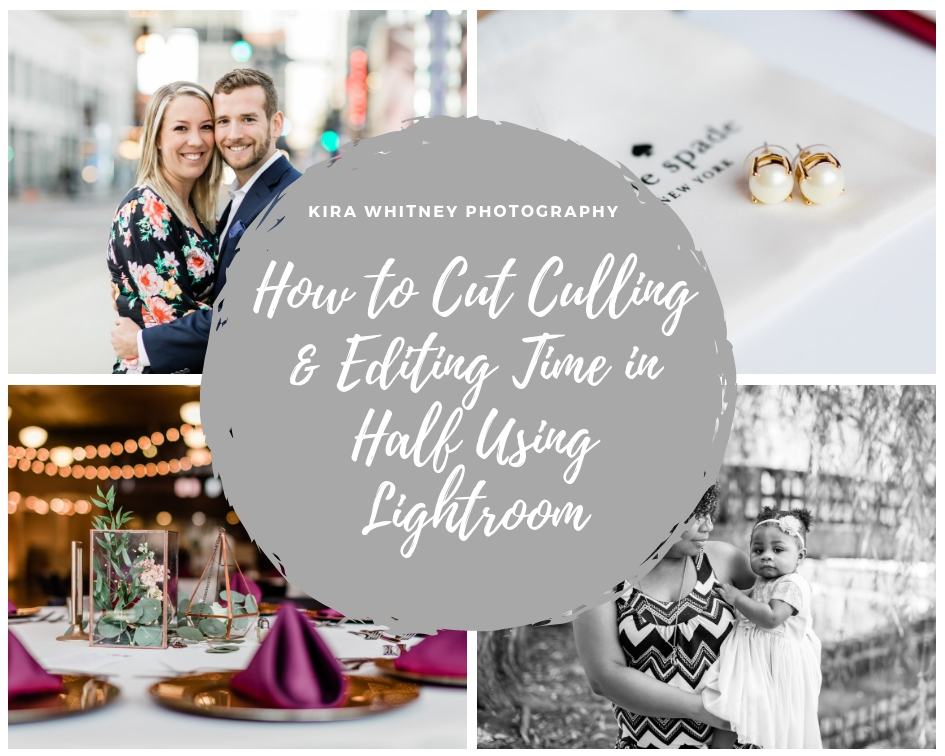 While I still use Photoshop for any major image edits, here are my reasons for loving Lightroom as my main post-processing tool for wedding and portrait photography. Keep reading to learn my exact tips and tricks for organizing images and drastically decreasing the amount of time spent culling, editing, and blogging each session.
Let's begin with my reasons for loving Lightroom:
1) Lightroom Collections
While I know there are ways to organize large quantities of images using Adobe Bridge in combination with Photoshop, I have come to love the "Collection" system within Lightroom. I name every collection with the EXACT name of the folder the images reside in on my hard drive since LR is only a catalog of the images (it just points to where the image is on your computer or hard drive, meaning if you move the image, you will need to go back and tell Lightroom where you moved it to to stay organized). I name them starting with the date so my sessions/weddings are always in order of when I shot them (ex. 20191202 – Max & Jodi Haller Wedding).
2) Lightroom Star Rating System
This is how the amount of time spent culling images decreased substantially for me. Coming home from a wedding with a couple thousand images to work through can be crippling for new photographers. Being able to work through them quickly to determine which photos are worth keeping and which ones you never want the world to see can greatly impact your client experience. I hear horror stories of friends not receiving their wedding photos for 6 months, even a YEAR, and I have a theory that it's because the photographer got so overwhelmed with the sheer number of photos they had to work through that they procrastinated culling, therefore never being able to move on to the actual editing part. Good news though, it doesn't have to be overwhelming! If I can cull, edit, blog, and send full wedding galleries within one week of the event and still have time for posting sneak peeks on social media, dinner with a friend and a movie or two with my husband, I promise you can do it too!! Oh.. and one week was my goal even when I was working another full time job Monday-Friday too and I hit it 95% of the time using this system!

Here are the two tricks that completely transformed how I cull.
Instead of deleting all the photos you don't want to keep, rate the ones you DO want to keep since there are probably more that you will get rid of than there are ones worthy of keeping (if you're anything like me anyway). I use the 5 star rating to note my very favorite images – the ones that will go on my blog post for the couple. I use the 4 star to note any other images that I want to keep to give to them, but don't necessarily need to share with the world via my website or social platforms (often most of the family photos and any that are too similar to ones that I starred with a 5 but that are different enough that the couple might like to keep).
Cull backwards. Think about it… while you're out shooting, you can typically feel when you got "the shot" in a certain spot or pose and you move on to the next variation at that point. That means that if you start at the end of your photos, you'll most often run across your favorite images first. For example, this way you don't put a 5 star on one image, scroll to the next only realize that you like it better, therefore having to go back and remove the star rating from the previous one… over and over and over. Huge time saver!
I have heard many photographers say that a software program called Photo Mechanic is lightning fast for culling, displaying the high quality images as fast as the eye can process, rather than waiting the split second for Lightroom to load each one, so if you're looking to speed up your process even more, I would suggest looking into that!
4) Lightroom Labeling with color tags
I use the color labeling system to note which images need additional editing in Photoshop. For example, as I edit, I label each image that needs a more intense edit (like removing someone or something from the background). That way I can stay focused on getting my editing in Lightroom first and go back to them at the end. Once I'm done with LR edits, I sort the collection to only show those marked in yellow, select all, right click, and choose "edit in Photoshop." It will open them all in PS and when I click save, it saves the updated copy in the collection in Lightroom. At that point, you just need to be sure to remove the originals from the collection (I typically just change the star rating to 0 since the copies will be saved with the original 4 or 5 rating.
I also use the color labels to organize images for my blog post. For example, I sort by all 5-star images (the ones that I selected for the blog) and label all the vertical/portrait oriented images Purple. I like vertical images to show up side by side (like the two below) so I use the collage option in the Print tab of Lightroom to sort by images with 5 stars that are labeled Purple and send them to a folder (using the "Print to File" button) within the original folder on my hard drive called "Blog". If I navigate back to the entire collection and sort by images with 5 stars that have NO color label, I can export all of them with a landscape orientation to that same Blog folder.
3) Lightroom Import, Edit, and Export Presets
A big part of speeding up the culling and editing process is having a consistent workflow, from the time you import the images from your memory cards to your hard drive, to the time you share the blog post and send the images gallery to the client. If you've used Lightroom for any amount of time, I'm sure you've heard of and used Edit Presets, but there are two other types of presets that can really speed up your workflow and make your life so much easier so you don't have to reinvent the wheel with each session. These are called Import and Export presets and are described below.
Import Presets
If you consistently find yourself making similar basic edits to every image when you first import them, or constantly writing out metadata to add to your images, import presets are for you.
**Organization Tip: Navigate to the "Library" tab at the top of Lightroom (just press "g" on your keyboard for a shortcut – stands for grid view). Click "Import" in the bottom left corner and select your source from the lefthand column (where you're pulling the images in from – aka your hard drive most likely). I like to name my folders starting with the year-month-day-name of the event so that they always sort in order of when I did each session/wedding. Check the box next to "Add to Collection" on the righthand column and either choose the collection (named the same thing as the folder on your hard drive) if you created it before clicking Import. If you didn't already create it, you can click the + sign to the right of "Add to Collection" and create it at this point.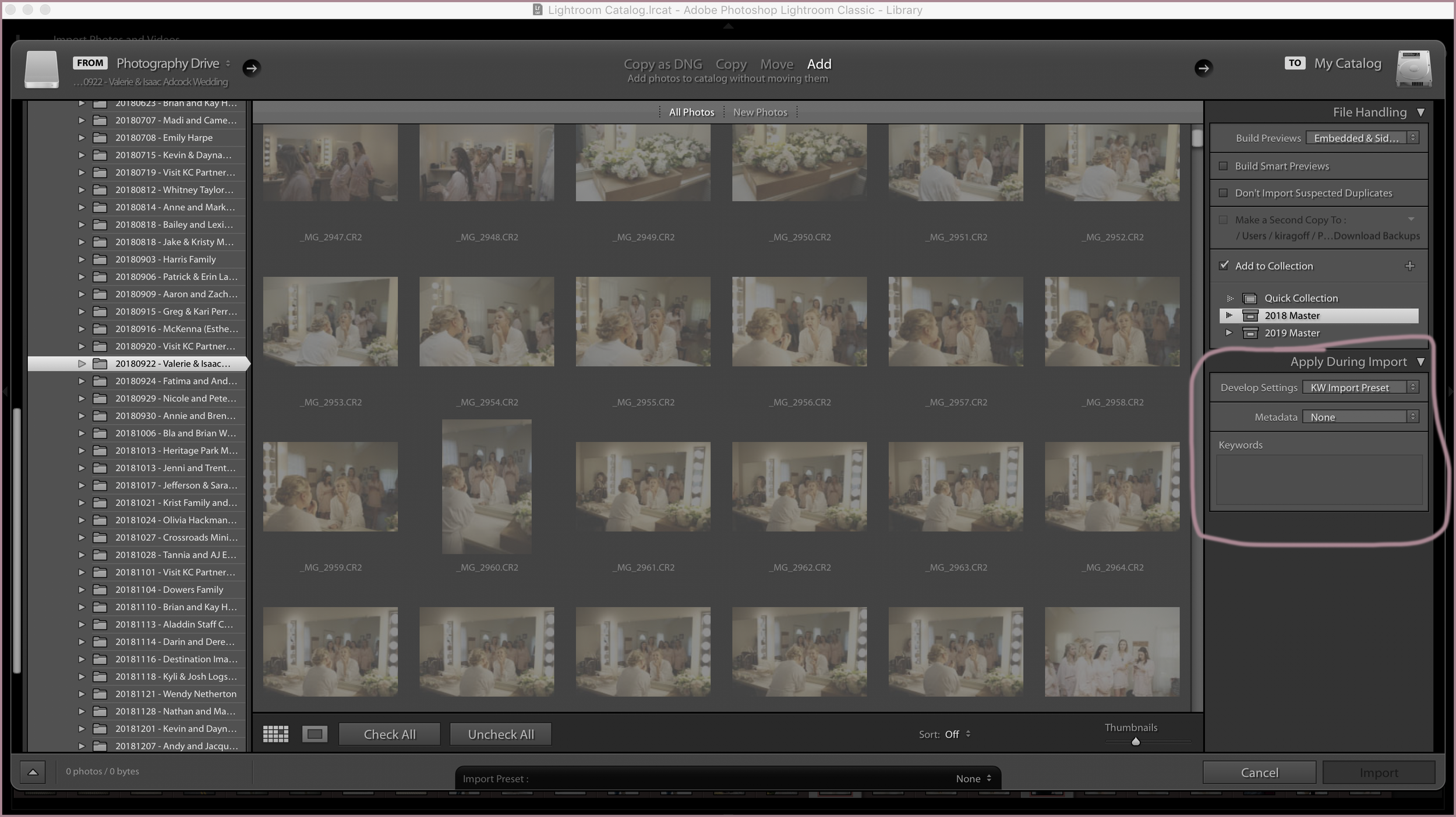 Now, scroll down on the righthand side to create or select your Import Presets in the "Apply During Import" section! Select from the edit presets you've already created to choose what you'd like to apply to every photo you're adding to the collection. For example, I created a custom edit preset called "KW Import Preset" that brightens each image a little, enables profile corrections, removes chromatic aberration, and adds noise reduction since those are things I typically do to every image (can always be adjusted later).
Select the dropdown by "Metadata," choose "New" and name it something you'll remember in the future (ex. Kansas City Wedding Keywords). Even if all you do is scroll to the bottom of that pop-up box and enter keywords to help with your SEO to add to each image, it can save a lot of time writing out keywords over and over! Once you click "Create"," you'll be able to just select that preset from the dropdown anytime you import images from a Kansas City wedding! Pretty cool, right??
Edit Presets and Syncing Photos
These, of course, have to do more with editing your actual images than culling and organizing and are the ones that most people know about. You can buy pre-made presets from a plethora of sources as a starting point, or you can create your own.
Some of my favorites are from Mastin Labs, Abby Waller, and Greater than Gatsby, but on almost all of them, I've figured out what I need to change after applying each one and updated the presets to remember that so that I don't have to adjust so much each time.
If you hit "Command + C" on an Apple computer, a pop-up will appear where you can copy all or some of the edits you have made on one image and "Command + V" to paste them onto another image or multiple images. Another way to edit multiple images at once is to select one and then use "Shift + click" to select a bunch in a row and click the "Sync" button in the toolbar at the bottom right. This will pull up the same pop-up box that lets you select what you want to copy/paste onto all the images – it will copy the settings from the first image you selected before using the Shift + click method to select multiple others.
I would suggest having your standard settings include everything in that pop-up box being checked EXCEPT FOR the Local Adjustments, Spot Removal, and Crop sections since those are items that are very specific to individual images (example, smoothing of skin or removal of something in the background of a portrait).
Export Presets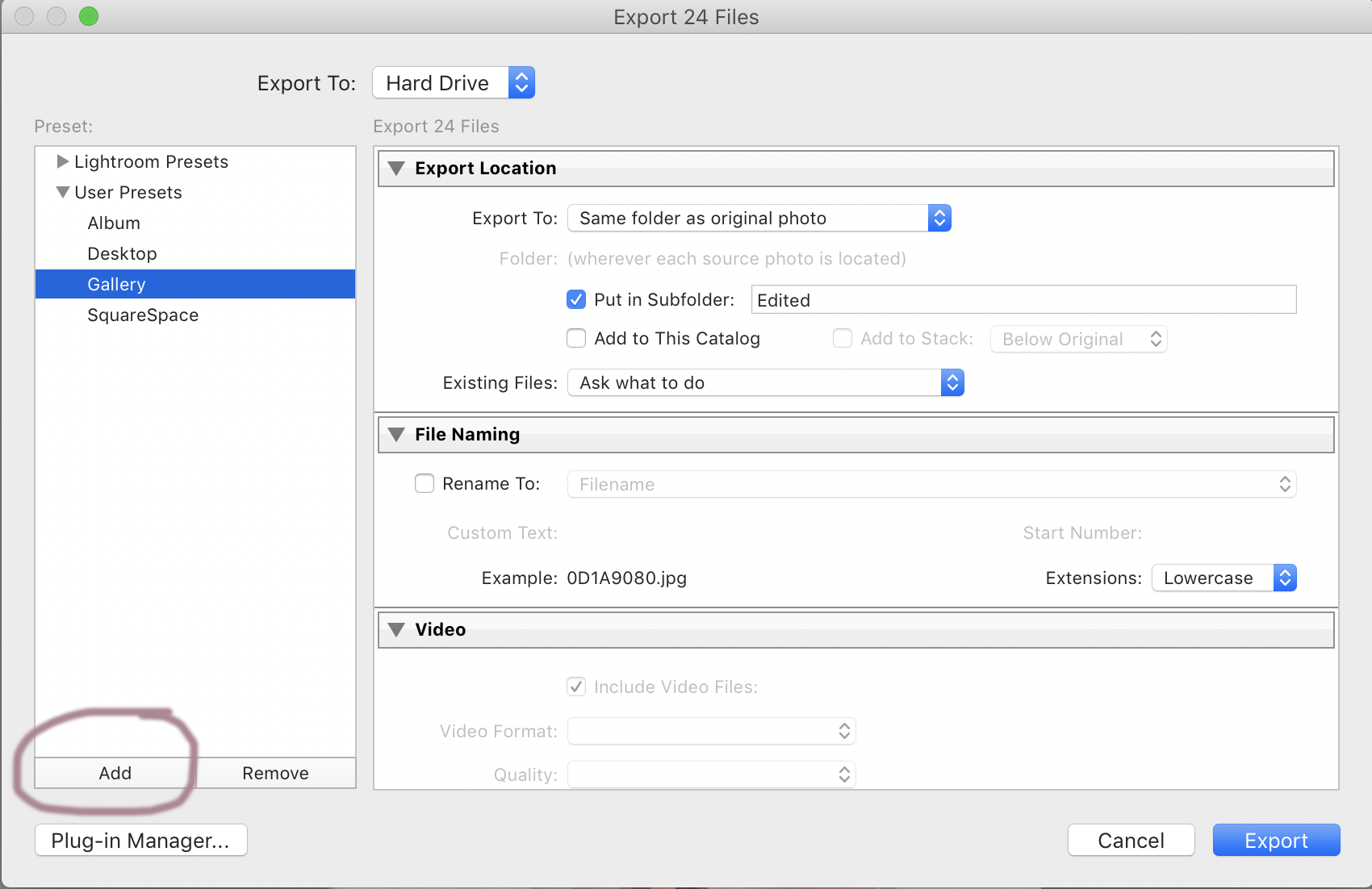 These have become some of my favorite presets because they make the process after editing the images such a breeze! They are a bit of a pain to set up, but you only have to do it once and then you're set for a long time until you decide to change or improve your workflow in some way.
Select the images you want to Export, right click, and choose "Export." Click "Add" below the list of presets on the left and adjust your settings however you would for the full size, original images you'll be sending to the client in their gallery. I name this preset "Gallery" (duh) and have Lightroom automatically export the images to a folder within the original folder on my hard drive that contains all the RAW files so I always know where to look for images from the session. The folder it's exporting to will also be called "Gallery" (all about consistency).
Follow the same process when you select all images you have rated with the 5-star in Lightroom for another folder called "Blog" and set them to send to a separate folder within the original on your hard drive named the same thing.
I also created one called "Desktop" that just sends the full size images to my desktop for quick access (when I want to share a sneak peek with the bride, etc.).
---
If you made it this far into this post – I'M IMPRESSED! I know this has been a ton of information, but I hope you find it helpful as you begin to create or fine-tune your culling and editing workflow! Have questions or need clarity about something I shared? Don't hesitate to reach out, I'd be happy to help!
If you're a creative entrepreneur (or want to be one), I'd love to see you over in my educational Facebook group where we are learning from and growing with each other!